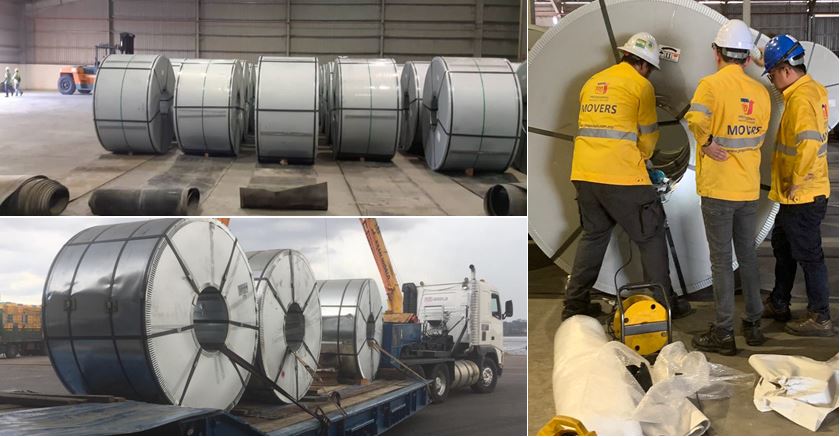 Project Cargo – New Manufacturing Base in Malaysia
Precision Global Logistics has supported its customers – a world leader in mechanical steel for renewable energy solutions – in establishing a new manufacturing base in Malaysia, enabling their customer to import equipment, raw materials and produce finished goods for export directly to the United States.
Our Expertise and Services
Precision Global Logistics planned and managed the entire 6-day logistics process to ship the first 122 steel coils weighing over 3,000 metric tons from port to warehouse, including storage, sample cutting, re-wrapping, and packing, as well as handling customs clearance and distribution to the consignee. To achieve smooth customs clearance, Precision Global Logistics' dedicated team also arranged sample cutting for SIRIM (Standard and Industrial Research Institute of Malaysia) Inspection, arranging for a subcontractor to slight 3 baby coils from the 25 tons mother coil and ensuring each coil was labelled accurately on arrival at port, before inspection. The key elements include:
Professional Consultation of Specific Requirements of Coil Import & Transfer in Malaysia
Onsite Monitoring & 24-Hour Live Updates to Customer
Knowledge of Free Zone Authority Regulations & SIRIM Inspection
Precision Global Logistics Experience
Precision Global Logistics previously shipped heavy production equipment for a client, from Suzhou in China to Malaysia. In the light of the China-US tariff stand-off, the customer has decided to not only build new factory in Malaysia but also ship raw material from South Korea/Taiwan to Malaysia via ocean freight, with Precision Global Logistics handling all operations from the destination port. Our experience and deep market knowledge in this region enabled us to provide a comprehensive and seamless service to our customer who is operating in an unfamiliar market to them. We transferred the cargo to a warehouse in the Free Zone Authority and worked through the night to achieve a rapid transit time, as well as liaising with trusted partners on utilizing specialist equipment required to handle the heavy freight and dispatching local transportation with low-bed trailers.
---
Let's Get Started
For more information please call us at 866-744-7187 or request information from below.
---