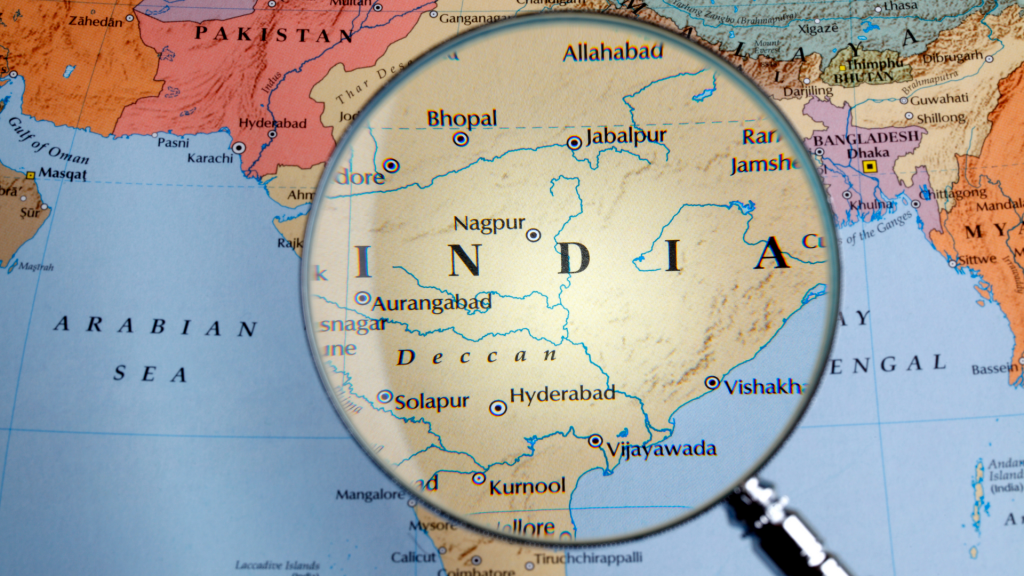 Pharmaceuticals
Life Sciences
Manufacturing
Sophisticated Indian Network
Understanding of Local Cultures
Office and Service Locations
Chennai
Bangalore
New Delhi
Ahmedabad
Hyderabad
Mumbai
Market Overview
Capital:New Delhi
Area:3.3 million sq km
Population:1.37 billion & Growing!
GDP Growth:around 6.8%
Major Contributors:Services (31%), Manufacturing (22%), Agriculture (47%)
Major airports:
Delhi – Northern India
Ahmedabad – Western India
Mumbai – Western India
Kolkata – Eastern India
Chennai – Southern India
Bangalore – Southern India
Hyderabad – Southern India
Cochin – Southern India
Major ocean ports:
Nhava Sheva (Mumbai) – Western, Northern India
Chennai – Southern India
Kolkata- Eastern India
Haldia – Eastern India
Inland Container Depots (ICD):
ICD TKD Delhi- Northern India
ICD Bangalore- Southern India
ICD Hyderabad- Southern India
ICD Ahmedabad- Western India
Inland connection:
2nd largest road network in the world (behind the U.S.) with 5.5 million km of roads
During FY19, Government of India allocated Rs 71,000 crore (US$ 10.97 billion) for development of national highways across the country
Over 64.5 per cent of all goods in the country are transported through roads
– Over-utilization of Highways causing Poor Road Surface
– Increased Traffic Congestion
Road supply cannot meet current (and rapidly growing) vehicle population
– Freight traffic of Indian Railways increased to 1,159.57 million tonnes in FY18
– Indian Railways is targeting to triple freight traffic from current 1.1 billion tonnes to 3.3 billion tonnes by 2030
– Freight remains the major revenue earning segment for the railways, accounting for 65.52 per cent of total revenues in FY18, followed by the passenger segment
Major import commodity:
Mineral fuels including oil: 33.2%
Gems and precious metal: 12.8%
Electrical machinery & equipment: 10.3%
Machinery including computers: 8.5%
Organic chemicals: 4.4%
Major export commodity:
Mineral fuels including oil: 14.9%
Gems and precious metal: 12.4%
Machinery including computers: 6.3%
Vehicles: 5.6%
Organic chemicals: 5.5%
Strong Growth in Warehousing and Logistics:
Warehousing and logistics sector has been growing steadily since 2017, and with 24% share of total platform level investments in India in 2018, warehousing is expected to retain strong momentum over the next few years (may pull in $10 billion by 2024).
Our Strength
Precision Global Logistics in partnership with MTO (Multimodal Transport Operator) License holders in India since 2018, opening up new opportunities for growth for the company in the subcontinent. Access to MTO license will enable Precision Global Logistics to provide extended services to shippers, moving cargo from any land point in India to and from any destination in the world, under a single Contract of Carriage. The manufacturing hubs in India, which contribute a major share of exports, are located deep in the hinterland and far away from the gateway ports. Therefore, the potential for multimodal transportation – including long and short hauls – is immense. The Multimodal Transport Operator, will enable Precision Global Logistics to take responsibility for transporting cargo from one point to another, utilizing more than one mode of transport, ensuring more efficient and cost-effective door to-door movement of goods for our customers.
Service Products
International Air Freight
International Ocean Freight
Customs Brokerage
4PL Warehousing & Logistics
Importer/ Exporter on Record (IOR/EOR) and e-commerce delivery support
MTO (Multimodal Transport Operator)
---
Let's Get Started
For more information please call us at 866-744-7187 or request information from below.
---